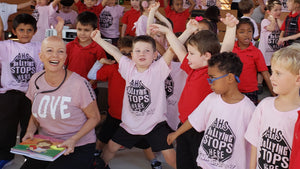 "YOU are a STAR...Keep Shining!"

A heart-centered enrichment program with NYT Bestselling Children's Author Laura Duksta
In a room filled with young children and adults, Laura Duksta instantly captures your attention and before you know it, she captures your heart. She's like a wizard. A lot of magical twinkling fills the room and inside each little soul stars are born.
Mary Dewald, daughter, mother, grandmother and 5th grade teacher, Weston, FL
"YOU are a Star...Keep Shining!" compliments both your SEL and character building efforts, as well as serving as an awesome author visit. While Laura writes picture books, she typically presents to the entire school, as the older students benefit from her authentic sharing about going and growing through life's challenges, as well as her adventures as an author. Laura's also a big believer that you are never too old for a good picture book!
"YOU are a STAR...Keep Shining!"
Author/ Writing Experience: write, edit, revise, repeat - appreciating that our best work is rarely "one and done!" Laura shares what inspires her writing, her first editors, newest projects, and MORE!
Being Yourself/ Alopecia Awareness: Laura lost all her hair at age 11 to a condition called Alopecia Areata. Her journey of resilience traverses being bullied as a tween and teen, to stepping into self-love and acceptance, to finally embracing her bald head and harnessing the power, freedom and FUN that comes from being yourself! 
Genius:

 We can learn to tune in to our own innate wisdom that by design is a part of each and every one of us. Our biggest challenges are often our greatest teachers, that in turn can lead to discovering our own unique gifts, talents and genius.
Reading is Awesome:

 Reading is quite possibly the best way to develop and nurture a healthy imagination! 
Enthusiasm & Kindness:

  Laura's Signature Cheers - 

"Keep Shining!"

 and 

"I AM a Genius!"

Our words and actions have power, how we speak to ourselves and one another matters, as do our actions.
Q & A:

 Laura loves answering the students questions - she often requests 75 minutes with older grades to have longer Q&As!
Bonus Opportunity: "Lunch with Laura"

with a select group of students. This may include student council representatives, essay winners, gifted classes, reluctant readers, or her favorite - young people who are going and growing through their own challenging situations.
Signed Books: 

 A flyer we create can be sent home prior to Laura's visit for families to purchase signed books. Laura writes a special message to each child in the books.
Add Ons:

 Laura can create workshop type sessions for individual grades or groups depending on your school's needs. Family Literacy Nights are also a fun way to get the families and even community involved.
Mindfulness: If beneficial, Laura can add mindfulness practices from the wisemindproject.org - a program she and her team bring to middle schools. Their videos air daily on Becon-TV in South Florida.
Please include name of school or organization, location, how many students approximately, your budget and possible dates. Laura or a team member will get back to you ASAP. 
Testimonials and a list of schools visited below....
Testimonials

"YOU ARE AMAZING!"
First grade student, American Heritage, Palm Beach Campus
On behalf of the students, faculty, and staff of Virginia S. Young Montessori Magnet, I would like to take this opportunity to personally thank you for coming out to our school. Your performances demonstrated your passion for positive thinking. Your message that everyone is a genius and anyone can achieve their dreams resonated with our students and staff. Afterwards, I overheard students sharing with others the impact of your presentation on how they view themselves and others.
When we scheduled your visit, we had no idea how dynamic and powerful your program would be. It is my pleasure to recommend you as an outstanding author/presenter to other schools in our district and beyond. You are now a celebrity of our students and your performances demonstrated the importance of reading, believing in yourself, and pursuing your dreams. Any school would be blessed to have you as a presenter. You truly touched the lives of our students and we thank you. We now believe in the beauty of our dreams and to always keep shining!
Jennifer Narkier, Media Specialist, Virginia S. Young Montessori Magnet
I was planning a community event, and wow did I hit the jackpot bringing in New York Times Bestselling author, Laura Duksta!!! She spoke to our book club after school and then came back for a sensational evening event. Both presentations exceeded my expectations. Laura inspired future authors to never give up, and realize that sometimes it takes a little failure to find success. Laura also inspired others to feel good about themselves with her fun cheers! She had students, parents, and community members on their feet, and feeling great!
Many of you think that during these difficult financial times, it's not possible to afford such an event. That's not true. Thanks to the tremendous support from a school partner, I was also able to secure Laura's fee with ease. I would highly recommend Laura and her program to students, parents, and teachers! What an enthusiastic author! Don't miss out!!!

Amy, Third Grade Teacher, Weston, FL
Thank you so much for your presentation at St. Mark's. I can truly say that we were all overwhelmed by your positive message! I was so impressed with your ability to communicate effectively with all age groups. Each of the groups you spoke to from the 1 year old class to the 8th grade enjoyed your book and talk. I have seen kids doing the I Shine cheer all week and our 7/8th grade Math teacher tells me she uses the genius cheer every day at the start of class! I hope you will come back and talk to us about your next book--we are looking forward to it!
Heidi Burnett, Director, School Media Center, St. Mark's Episcopal School
Laura Duksta and Karen Keesler are great! They have a presentation that truly supports the work of educators, parents and children. Their message of love includes both affective and academic elements. Social and emotional issues discussed include dealing with personal challenges, differences in yourself and others, appreciating yourself and others, using the imagination and self-affirmation, setting goals, accepting constructive criticism, and using your talents to help others. Academic issues include keeping a positive attitude in school, exploring the creative process, drafting and revising work of any kind (including written and artistic work) and persevering to complete a project. Laura and Karen know how to tailor their program to audiences of various ages. They helped my school find the genius inside each one of us!
James McGhee II, Headmaster, Alexander School, Miami, FL
I feel it's been a privilege to have crossed paths with these lovely ladies because of their message of love and their dedicated, compassionate method of delivering that message not only through their book and their web site, but also through their personalities. Every chance I've had to interact with Laura and Karen tells me that they have a strong message that needs to be heard not only in South Florida, but around the world.
Julia E. Spann, Youth Services Librarian Pembroke Pines/Walter C. Young Res. Center
"I find Laura to be an amazing person and feel that her positive outlook on building relationships is in keeping with our Character Education Program."
Susan Messing, Proud Principal, Chancellor Charter School
"I thought Laura's presentation was great. The students and I talked about it after the show. The students focused on what it must be like and feel like to look different and how important it is to treat everyone with kindness. We discussed how we all have two eyes, two ears, etc. yet how we all have special qualities that make us different."
Debbie Geller, Teacher Imagine Schools
When the guidance counselor who booked Laura at American Heritage (Broward campus), asked her 6th grade son what he thought of the program, she was expecting one of his typical responses of "Boring" or "Ok," she was  surprised by his heartfelt answer, "The only problem was that it should've been longer!" The program was an hour!
Media specialists frequently comment on Laura's ability to engage, and effectively communicate, with younger and older students. While she typically visit elementary schools, she has talks designed for all ages from preschool to high school, personal development days, educator seminars, mommy and me groups, as well as senior living homes...the message of LOVE resonates with and makes a difference for people of all ages! 
It is Laura's ability to be PRESENT with the students that is the true GIFT!
Schools Visited
Arizona:
Mesa: Zaharis Elementary
Tempe: Changing Hands w School for the Deaf
California:
La Jolla: The Children's School
Lake Tahoe: Environmental Science Magnet,
Los Angeles: St James Episcopal
Murrieta: Murrieta Elementary
Colorado:
Aspen: Aspen Elementary, Wildwood and others
Denver: Mile High Center for Spiritual Living Youth Program
Longmont: St John the Baptist Catholic School
Florida:
Amelia Island: Amelia Island Montessori
Atlantic Beach: Atlantic Beach Elementary
Bryceville: Bryceville Elementary
Celebration: Celebration Elementary
Coral Springs: Riverside, Country Hills, Cambridge Schools
Davie: David Posnack Temple School, Hawkes Bluff
Delray: American Heritage (two visits)
Fort Lauderdale: Virginia S Young, Lloyd Estates, Floranada, St Mark's, Pinecrest, St Anthony's, Delmar academy
Fort Pierce: Fort Pierce Magnet School for the Arts
Hollywood: Beach Montessori
Lady Lake: The Villages of Lady Lake Elementary
Leesburg: Leesburg Elementary
Miami: Alexander School, Miami Country Day, St Francis, St Thomas
Mount Dora: Round Lake Charter
Pembroke Pines: Cambridge Schools
Pinecrest: Pinecrest Elementary
Plantation: American Heritage (four visits)
Pompano: Lighthouse Point Christian
New Port Richey: Fox Hollow Elementary
Tamarac: Liberty Elementary
Tangerine: Tangerine School House
Weston: Everglades Elementary, Imagine Charter, Cambridge Schools
West Palm Beach: Meyer's Academy, Academy of the Palm Beaches
Windermere: Keene's Crossing Elementary
Illinois:
Glenview: Willowbrook
Shorewood: Walnut Trails
Streamwood: Ridge Circle
Wheaton: St Michael's Elementary
Kentucky:
Alexandria: St Joseph Cold Spring
Bowling Green: Briarwood Elementary
Massachusetts:
Halifax: Halifax Elementary
Hingham: Notre Dame Academy, St Paul's Catholic School
Kingston: Kingston Elementary
Marshfield: Governor Winslow, Daniel Webster, Martinson
Milton: Collicot
Plymouth: Federal Furnace Elementary
Quincy: South Shore STARS Preschool
Randolph: South Shore STARS preschool
Scituate: Hatherly, Jenkins, Lil' Munchkins Childcare & Preschool, Owl's Crossing Preschool
Weymouth: South Shore STARS Preschool 
Missouri:
Overland: Marion Elementary
St Louis: Immacolata, New City School
New Jersey:
Caldwell: Grandview, Trinity Academy
Orange: Forest Street
West Orange: Gregory Elementary
New York:
Frost Valley YMCA for CAP 
Port Washington: Parent Resource Center
Ohio:
Cincinnati: Guardian Angels, Sands Montessori, Mercer, Welch, Colerain
Kings Mills: Kings Mills
South Carolina
Aynor: Aynor Elementary
Conway: Kingston Elementary
Tennessee:
Brentwood: Kenrose
Franklin: Walnut Grove, Clovercroft
Nashville: Mama Lere School for the Deaf, Vanderbilt
Mt Juliet: Rutland Elementary
Spring Hill: Allendale
Watertown: Watertown Elementary
Texas:
Austin: Blazier Elementary
Want to add your school to the list, CONTACT US today!