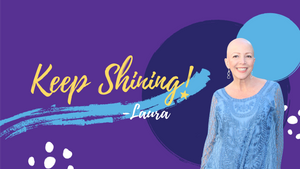 Hello and A Bit About Laura
Laura Duksta is an Ambassador of Love, inspirational speaker and author of the New York Times bestselling children's book, l Love You More. Laura's works also include You are a Gift to the World/The World is a Gift to You and I'll Hug You More. Her newest title, No Matter What, You Are Loved, is in production and aiming for a 2023 release. Her books have sold nearly a million copies in the US, and are available internationally in eight languages.
Laura aims to reach as many hearts, homes and classrooms as possible with the power, magic, and message of presence, love, appreciation, connection, and enthusiasm...PLACE.
Laura felt from a young age, 7 or 8, that she was meant to travel the world, meet her sisters and brothers, and share the message of love. She lost all her hair to a condition called Alopecia Areata at the age of eleven, a lesson she feels she was gifted to deepen her experience and awareness of love, compassion, and empathy for herself and others. She now believes when we know we are loved, that any challenge we are going or growing through can be transformed, and that it's often the journey through those difficulties by which we become our best and brightest selves. 
Laura is now fulfilling her mission of sparking the conversation of love around the world through her books, school programs and inspirational talks. She has delivered her well-received presentation "YOU are a Star...Keep Shining!" to 100,000+ students and educators across the country. She's virtually visited libraries in Africa through Village Book Builders and presented to families with her publisher in Vietnam. Laura has also delivered keynotes for a diverse array of groups and organizations, including Women of Energy in Jamaica and Delta Airlines.
Laura and her books have been featured in dozens of blogs, magazines, newspapers, radio programs and TV shows, including USA Today, the Miami Herald, the Sun-Sentinel and Boca Magazine, Whoopi Goldberg, Sally Jesse Rafael, News 4 Nashville, South Florida Today and more.
Some of the biggest hearts in the publishing and human potential worlds endorse Laura's books and programs, including Dr Wayne W Dyer, Jack Canfield and Mark Victor Hansen (co-creators of the Chicken Soup for the Soul series), Dr John Demartini, Alan Cohen, and more.
An active member of her community, Laura is a part of the Wise Mind Project, a South Florida-based non-profit bringing mindfulness, resiliency and inner wisdom training to educators, middle school students, and their families. She's served on the board for the Boys and Girls Club of Broward County, and is a champion for PBS and its programming.
Laura holds a bachelor's degree in sociology from the University of Maryland. She's an avid student and teacher of human potential and transformational work, and an original co-founder of the global CoCreating Our Reality community.
Topics Laura can speak to include:
The Power of Love:

Laura self-appointed herself an Ambassador of Love, what this means, and why she wants more of us to join her 

Listening to Your Inner Voice:

Laura's inner voice saved her life and delivered her first book, what yours might sound like and how to tune in 

Choosing Kindness in a World full of Bullies:

how life is often like a slingshot, the further you're pulled back the greater your opportunity to soar. Our biggest challenges have the ability to propel us into our purpose

Being Yourself:

The power, freedom and self-­expression that comes from learning to embrace the simple though not always easy lesson. Ways to triumph over the dis-ease of comparison and the "not enough" syndrome

Following Your Dreams:

Laura's journey from challenging childhood, to South Beach bartender, to self-published sensation, to

New York Times

bestselling author. Discover your destiny and how each step along the way has served

 
Since I was young I've always known I am meant to travel the world, meet my sisters and brothers and share the message of love. As an author my books and message of love reach children, parents, grandparents and teachers globally. You can follow my adventures here, on Facebook and Instagram, along with an occasional tweet!
I'm looking forward to creating even more ways to connect with *YOU* and share the message of love!
Till then...Keep Shining!!
I Love Hearing From *YOU*
Have a message, question or story to share? 
Would you like to have Laura speak for your school, group or organization?